One of the most common complaints we hear from our clients is lack of storage space. What they don't realize is that even owners of the smallest homes can double their storage space with some simple but creative modifications. Here are some ideas: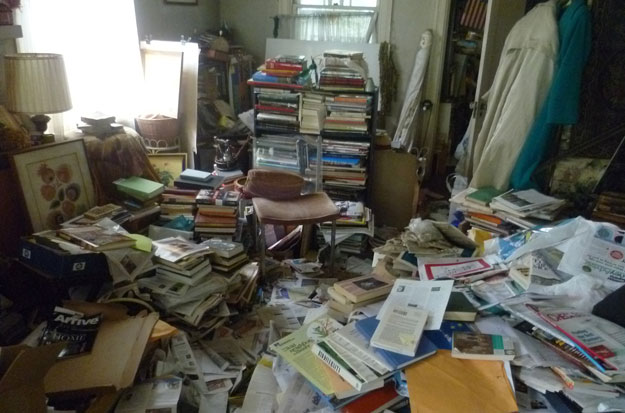 Kitchen
Appliance garages–special cabinets with roll-down doors can hide items like toasters, mixers, and food processors to free up counter space. Extra-deep counters also make a difference.
Under-cabinet knife slats provide a protected spot to store utensils. Existing cabinets can be replaced with deeper or taller models that reach to the ceiling. Use the top shelves for rarely used items.
Built-in refrigerators, perhaps faced with the same materials as your cabinets, can save space in a small kitchen.
A separate pantry, which holds many items within easy reach, is another valuable storage space. Narrow, vertical areas can provide the perfect place to store mops and brooms.
An island can improve traffic patterns in the kitchen while adding tons of storage. Slide-in cutting boards, pot racks, even an extra sink can be built in to make a big difference. Open shelves on one side can make food preparation quicker too.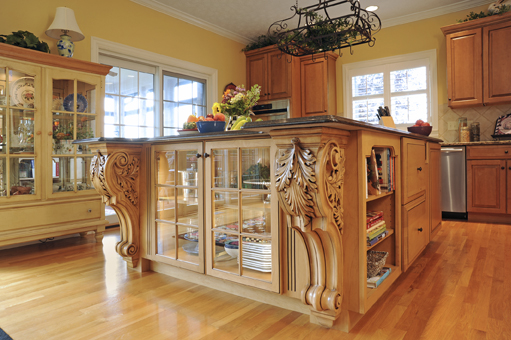 Master Bedroom
Under-the-bed rolling drawers can hold extra clothes or linens. A built-in cedar closet can keep your woolens safe from moths. This can be created from a portion of a current closet.
Outfit your closet with double hanging rods, drawers, shoe holders, and hooks to create a space for everything.
Bedrooms, Living Rooms, or Dens
Window seats and built-in bookshelves can create a private nook while providing a place for books, toys, or linens.
Bathrooms
Appliance garages work in the kitchen, so why not in the bathroom?  A "garage" houses brushes, hair dryers, combs, and can include an electrical outlet, too. Medicine cabinets can be surface mounted or recessed between studs. Custom cabinetry affords optimal use of space. Vanity-to-ceiling and floor-to-ceiling built-ins that combine open shelves and enclosed cabinets are decorative as well as utilitarian.
While standard height for most sinks is 30 to 32 inches, most adults can use a basin more comfortably when it's 34 to 38 inches high. The extra height allows for more storage; an extra shelf in the area below the basin, and additional drawers on the sides.
Workshops or Garages
Here, organization is very important. A place for everything and everything in its place can make a small space seem much more spacious. Pegboards can hold hooks for tools, paintbrushes, or just about anything. Accessories can be purchased to store small items like nails; some accessories hang right on the pegboard.
With a little creativity, your home can provide up to twice as much storage space as you're now using. For specific ideas for your home, give us a call. We're full of ingenuity!